Need very badly a skirt in my wardrobe.It may sound weird but I don't own any skirts and my style really needs a refresh since I wear skinny jeans all the time.The thing is I didn't buy any skirts for the past few years cause my mom would always say I'm never going to wear them:Its true I m kind of a tomboy and I avoid looking feminine(at all) but there is something about skirts,if worn the right way they still look feminine in a way but kind of edgy and bad ass so I guess this compensates.When I turned seventeen( one month and a half ago) I took a vow(a more informal one) to start taking risks with my style which I haven't really kept but I m saving money like mad to get myself a skirt in H&M.So I'm doing my best.I also own a dress but I don't know what to wear it with on more casual occasions so Ive actually never worn it and It s a quite gorgeous dress so shame on me but the thing is its a sleeveless dress and I never wear sleeveless tops without a jacket to go over them so I need a good enough jacket for this one.Also I was thinking of getting a pair of tailored shorts but I m not sure they have my size left.Anyways those are pictures of my current style aspirations.
Good old Jenny Humphrey when she was still relevant to the show.She used to have some pretty awesome outfits to boot,her style used to be sort of glam grunge with an youthful edge and she really stood out from the other characters.Im quite obsessed with the outfit above.Btw that diamond hairband was 700$ alone.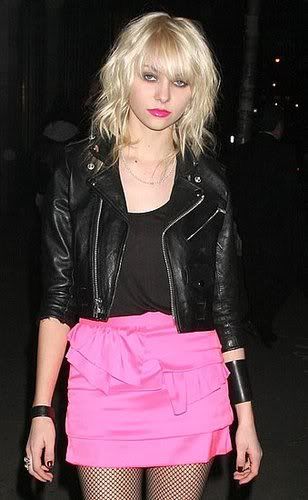 I'm loving her style circa 2009,I like how she(well it might be her stylist I'm not sure) would add a pop of pink to her outfits to brighten them up a bit.Also her hairstyle was probably her best one yet,I'm not very fond of her extensions. I used to be quite obsessed with her in 2010 so I was annoyed with her when she started to dress so trashy,especially since she had great style.But with an amazing album like Light Me Up I'm happy she went that way.Before I just taught of her as a pretty girl with a perfect life and with an amazing wardrobe I'm guessing but then I just started to see her as an actual artist,I gave her credibility.I think Ive listened to each one of her songs and her band is the first one from which I like pretty much all the songs though my favourite has to be Just Tonight.
OK Ive deviated a bit form the subject but the idea is that she knows how to wear dresses and skirts well and make them look edgy but I ll have to make a part 2 for this post.